YOUR AQUARIUM'S BEST FRIEND
Automated innovation for sustaining ecosystems.
The ReefBot is an automatic water testing device that monitors your aquarium, tank or pond by running tests periodically, analyzing them and sending you real-time updates via mobile or web app.
Not only can you monitor your aquarium, you can even perform and set up preferred test schedules and let the ReefBot do the rest of the work for you remotely!
What's even cooler is that you can immediately spot if something is wrong. Our app is very user friendly and you can set customized alarms to track the changes in your aquarium's water parameters, ensuring key survival of the aquatic life.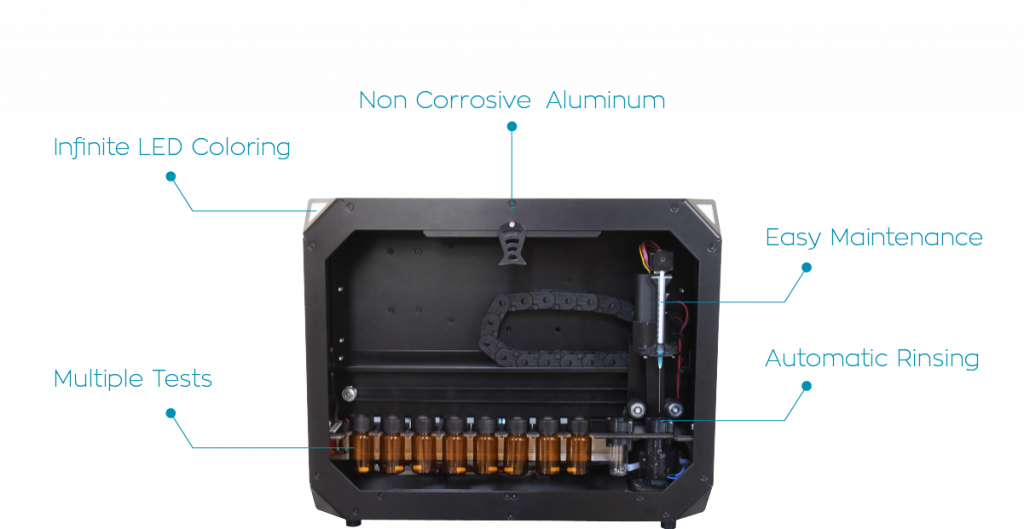 AUTOMATED
Test your water whenever you want or on schedule basis and receive results remotely.
ACCURATE
Accurate results without the hassle of comparing colors. The ReefBot will do everything for you.
Set up and install your ReefBot easily in less than 15 minutes.
FLEXIBLE
Access your dashboard and results from anywhere through mobile or web app.
Tests
The ReefBot can perform a variety of liquid-reagent tests some of the most important in our reef ecosystem.
| | |
| --- | --- |
| Salifert | KH/Alkalinity Pro Test |
| RedSea | KH/Alkalinity Pro, Magnesium Pro, Calcium (beta), Phosphate Pro Tests |
| Giesmann Aquaristic | Magnesium Professional, Phosphate Tests |
| Poolmaster | 5-way Test Kit Chlorine Test |
| Tropic Marin | Nitrate Pro, Nitrite Pro |
| Fauna Marin | AquaHome Nitrate, AquaHome Nitrite |
| API | Calcium, Alkalinity, Phosphate, Ammonia, Nitrate Tests |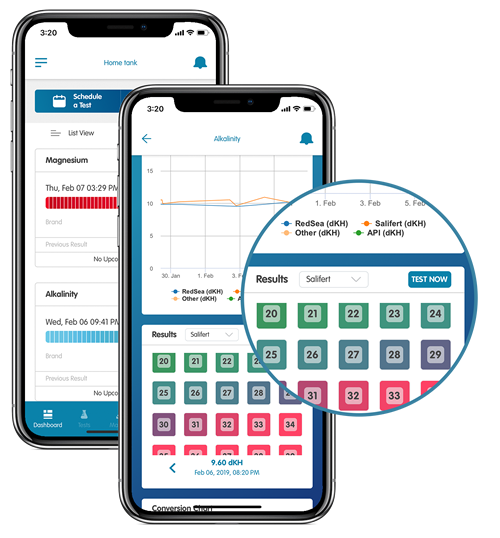 MONITOR YOUR AQUARIUM ON THE GO
Let your app tell you when your water is safe and when it's not. You can access you personal dashboard with a snapshot of all your latest readings, test on demand and schedule basis and get notified to any problem monitored by the ReefBot immediately.
Everything you need with a touch of a button.
Test on demand and schedule basis
Remotely monitor your results
Email alerts and push notifications
Access to result history
Log manual results
Online graphing of results
Download the Reef Kinetics app to get the most out of your ReefBot. Access your personal dashboard, features, and ReefBot updates.